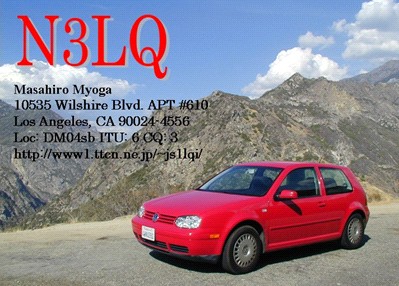 In 2004, I have got my extra class license and got my US call sign AB3BU. Since my Japanese call sign is JS1LQI, I applied for a vanity call sign and N3LQ has been issued on May 1, 2004. For a while, I lived in Monroeville, PA and from June, 2004 to May, 2006, I lived in Los Angeles, CA. Now I have moved back to Tokyo Japan.
Currently I am a member of;
And the former president of ;
Chuo University High School at Koganei Amateur Radio Club (JA1YHB)
Chuo University Amateur Radio Club (JA1YGX)
My interests include a traveling, Airplane & Rocket, Astronomy, and the Search for Extraterrestrial Intelligence (SETI).